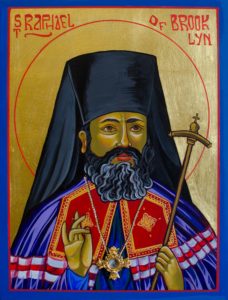 Our father among the saints Raphael of Brooklyn (November 20, 1860 – February 27, 1915) was born Rafla Hawaweeny in Beirut, Lebanon, to Damascene Syrian refugee parents. He was educated at the Patriarchal School in Damascus, the School of Orthodox Theology in Halki Island, Turkey, and at the Theological Academy in Kiev, Russia. In 1904 he became the first Orthodox bishop to be consecrated in North America; the consecration was done by Archbishop St. Tikhon of Moscow and Bishop Innocent in New York City. He served as bishop of Brooklyn, New York until his death.
During the course of his ministry as an auxiliary bishop of the Russian Orthodox Church in America, St. Raphael founded the present-day primatial cathedral of the Antiochian Orthodox Christian Archdiocese of North America (St. Nicholas Cathedral), established thirty parishes, and assisted in the founding of St. Tikhon's Orthodox Monastery in South Canaan, Pennsylvania.
Bishop Raphael was glorified (numbered among the saints) by the Holy Synod of the Orthodox Church in America in its March 2000 session, and the glorification services by that Holy Synod took place in May of that year at St. Tikhon's Monastery with the participation of bishops representing the Antiochian Orthodox Christian Archdiocese of North America, the Greek Orthodox Archdiocese of America, and the Church of Poland. He is commemorated by the Orthodox Church in America on February 27, the anniversary of his death, and by the Church of Antioch on the first Saturday of November, which is shortly before Raphael's own patronal feast (the Feast of the Archangels, November 8).